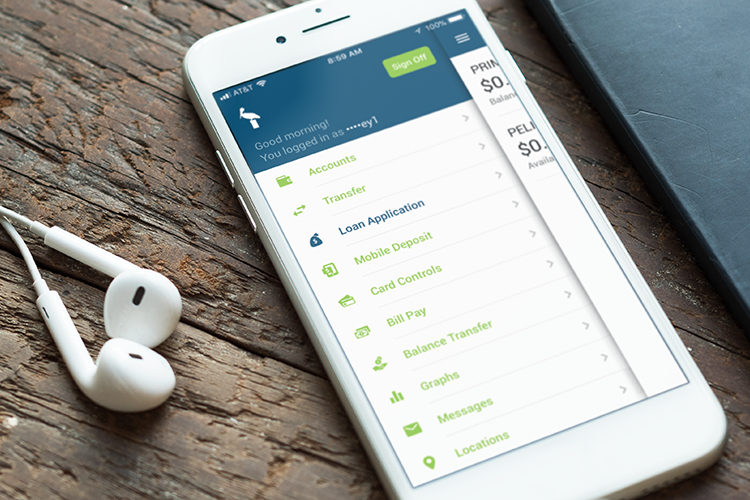 {beginAccordion}
RECENT UPDATES
Reset Your Password, Enroll in Online Banking, Open Accounts, and Much More!
May 2020
Enjoy these convenient new features from the palm of your hand on PelicanMobile:
Reset your password – Enjoy the convenience of resetting your password from the sign in screen.
Enroll in online banking – If you have an email address already on file, you can now enroll in online banking by tapping "Enroll Here" on the sign in screen.
View your FICO® score3 – If you have a loan or credit card with Pelican, you can now view credit-related information such as your FICO® score, factors, and more!
Open accounts – Apply for a checking, savings, or share certificate by tapping the "Account Opening" tab in the menu.
Make loan payments – Want to make a payment on your Pelican credit card or loan using an account or debit card from another financial institution? Now you can access the Payment Center from the menu. (If you want to make a payment from your Pelican checking account, simply use the "Transfer" feature instead!)
Get payment relief – Having trouble making payments? Tap "Payment Relief" under the "Connect" section in the menu and get quick access to our Payment Relief Request form. A member of our team will reach out to you to explore possible solutions!
---
Access eStatements, Search Transaction History, and More!
September 2019
There are several new ways to make account management and financial planning even easier in PelicanMobile:
Sign up for and access eStatements – Click the menu and navigate to the "Statements" section. If you're already signed up to receive eStatements, you will see each month's statement listed there. If you haven't signed up yet, you will be prompted to do so. You can also access tax documents from this section!
Search transaction history – Need to find a transaction? Now you can do so quickly and easily! Simply click on the account you'd like to search and click on the search icon in the top right-hand corner. Enter your search terms and specify a date range to narrow down your results!
See mobile deposit images – You can now see check images you submitted for all of your mobile deposits! Simply click "Mobile Deposit" from the menu and click the "History" tab. Then click on each deposit to see the check image. This tab also shows you the status of your mobile deposits!
---
Apply for a Loan
September 2018
One of our most-requested app features is here! Now you can easily apply for a loan or a credit card while you're on-the-go inside the PelicanMobile app!
Simply sign in, open the menu and tap "Loan Application" to get started.
Members can use the app to apply for:
Sign in and apply using PelicanMobile today!
---
Transfer Balances from Non-Pelican State CU Credit Cards!
July 2018
You can now transfer credit card balances to your Pelican Visa Credit Card in PelicanMobile, our online banking app! Simply take a photo of your credit card statement or enter the information manually.
Click the menu in PelicanMobile and select Balance Transfer to get started! Learn About Balance Transfers >
---
Mobile Deposit Endorsement Requirement
July 2018
As of July 1, 2018, new federal regulations require that all checks deposited using PelicanMobile's remote deposit feature be endorsed with, "For Mobile Deposit Only @ Pelican State Credit Union." This sentence should appear under your signature. Using this endorsement ensures that your check won't be rejected due to these new regulations, which protects members from accidentally depositing the same check more than once.
Here's an example of a properly endorsed check for mobile deposit:
To ensure that all of our members using remote deposit endorse their checks correctly, we've added reminders in PelicanMobile. However, if you still need assistance, we are here to help!
If you have any questions, please contact us online or call 1-800-351-4877.
2Click here to read our Remote Deposit Capture Disclosure and Agreement.
3FICO® is a registered trademark of Fair Isaac Corporation in the United States and other countries.
{endAccordion}