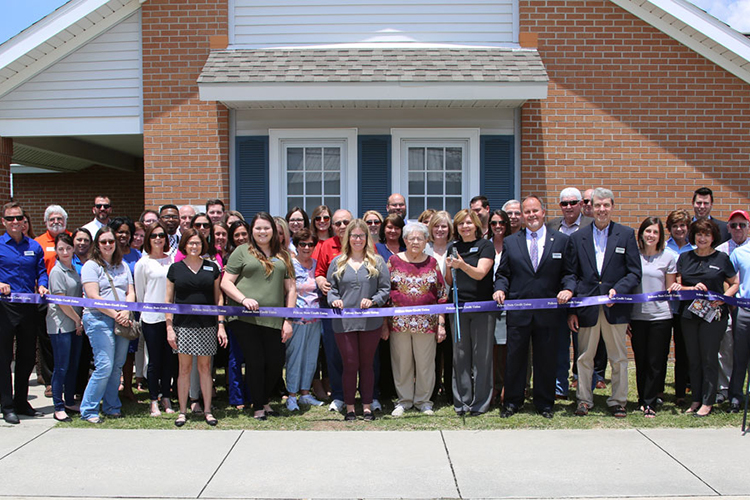 Pelican State CU Celebrates Lafayette Community With Free Credit Score Workshop and Crawfish Giveaway
LAFAYETTE, LOUISIANA – The line wrapped around Pelican State Credit Union's St. Jules branch at 1600 N. Bertrand Drive in Lafayette, Louisiana, as the credit union prepared to give away 500 pounds of free crawfish to its members on Wednesday May 9, 2018.
Along with free crawfish, guests enjoyed games, refreshments and a 55-inch TV giveaway at the Grand Opening Celebration. Local business leaders, residents and representatives from One Acadiana Chamber showed their support for the credit union at a ribbon cutting ceremony and branch blessing led by Pelican CEO Jeffrey K. Conrad and St. Jules Deacon Reggie Bollich.
The credit union also hosted a free Financial Wellness Workshop at the St. Jules Church Meeting Hall the night before the celebration. Pelican's Director of Financial Outreach shared everything the 64 guests needed to know about understanding credit reports and scores.
Pelican merged with St. Jules CU in December 2017. Along with supporting its newest members, the credit union is devoted to preserving the history of St. Jules CU and has installed a branch mural along with composing a booklet and blog post reflecting on its rich history.
Several businesses in Lafayette and its surrounding areas are partnered with Pelican, which provides credit union membership eligibility and free credit counseling as a free benefit to their employees. These businesses include St. Jules Church, the Cathedral of St. John the Evangelist, Lafayette General Medical Center, Park Place Surgery Center and Volunteers of America of Acadiana.