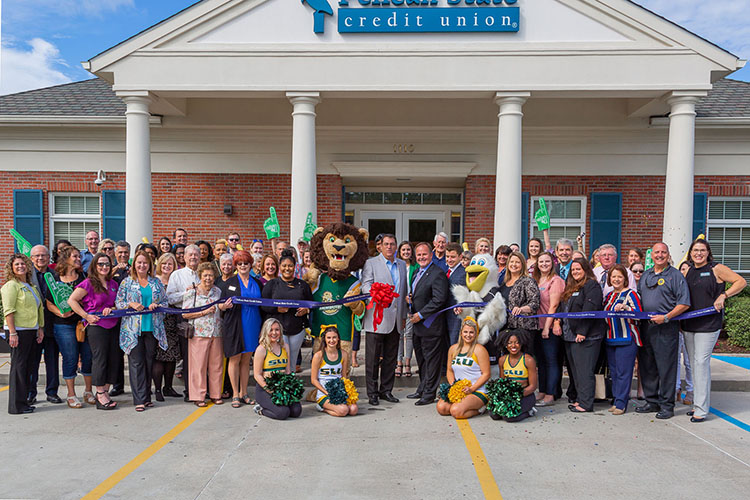 HAMMOND, LOUISIANA - Pelican State Credit Union hosted a tailgate party on Thursday, September 27, 2018, to celebrate the opening of its new branch in Hammond, Louisiana. Members of Pelican who visited the branch each received tickets for free food and drinks from Fete au Fete, Louisiana Lemonade and Taco de Paco food trucks.
Prior to the food trucks serving lunch, CEO Jeffrey K. Conrad led the Ribbon Cutting Ceremony. The Chamber of Hammond and Pelican board members were among the dignitaries present. Petey the Pelican along with Southeastern University's cheerleaders and mascot Roomie the Lion joined in the ceremony and tailgate fun!
Along with free food, guests had the opportunity to enter to win tickets to SLU football games or a grill and Pelican prize pack. Since no tailgate would be complete without games and music, radio personality Johnny of Tangi 96.5 deejayed the event and brought more prizes for guests to win as they played ring toss, corn hole and ladder golf games. Membership with the credit union was not required to participate in the giveaway or games.
The credit union also offered a free Credit Score Workshop at Southeastern University earlier in the week. The whole community was invited to the workshop, and Pelican provided a jambalaya dinner for all guests. Two guests also won $50 gift cards and Pelican prize packs! Everyone had the opportunity to become a member of Pelican at this event, although membership was not required to attend, receive dinner or win a door prize.