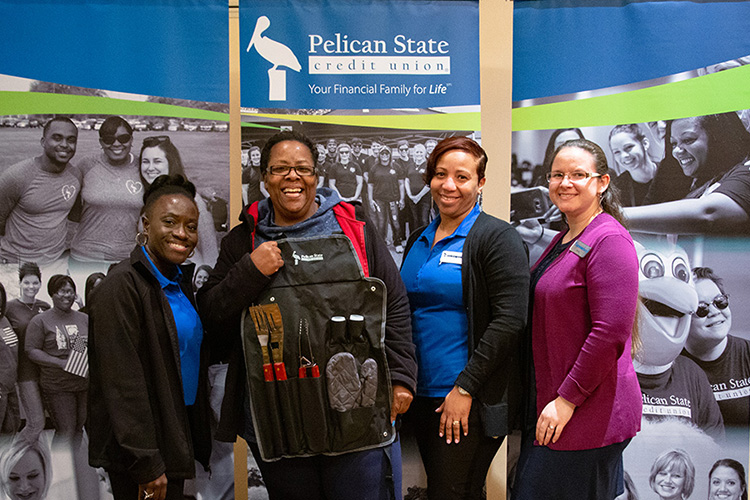 PINEVILLE, LOUISIANA – Balloon bouquets, smiling faces and savory pastalaya greeted the 50 guests of Pelican State Credit Union's Home Buying Workshop at the Pineville Convention Center on February 19, 2019.
Pelican Pineville Branch Manager Ashley Neal welcomed everyone and moderated the event with flair. Home buying experts serving on the panel included Keller Williams Realtor Margaret Hickman, Pelican Mortgage Originator Jennifer McMinn-Griffin, and Pelican Nationally Certified Credit Counselor Rhoda Hundley.
There was no shortage of questions or answers, and many guests stayed after the event ended to squeeze in a few more questions! Guests couldn't get enough, and the panelists generously gave more time following the presentation to stay and discuss unique situations.
Special guests in attendance included Pelican's newest board member, Tawana Carmouche, and Liberty Mutual Representative, Scott Tippet. Tippet shared about exclusive discounts offered to members of Pelican, and provided a Fire TV Stick and an iDevice Switch as door prizes. The credit union also gave away a free grill and customized grill set!
Pelican State Credit Union has made it a primary focus to champion financial wellness in the least financially literate state, one parish and person at a time. In 2018, the credit union hosted 196 Financial Wellness Workshops for over 7,500 members and non-members in 14 parishes. The credit union also pursues this cause through free one-on-one credit counseling for Pelican members, publishing financial articles on its blog, Pelican State of Mind, and hosting budgeting simulations in schools.
All residents of Rapides Parish are eligible to join Pelican State Credit Union. Pelican has two branches in Rapides Parish at 4520 Lee Street in Alexandria and 3628 Monroe Highway in Pineville.