Protecting and Helping You Through Coronavirus (COVID-19)
Pelican State Credit Union has been, and always will be, a credit union where its members and team members' health and safety are at the forefront of what we do.

Amid the COVID-19 pandemic, we will continue to take all actions necessary to ensure the safety of our members and team members.
---
Jump to:
---
Branch Updates
Most of our branch lobbies have officially reopened with no appointment necessary.
The health and safety of our members and team members is our top priority, which is why all Pelican branches will continue to practice social distancing and adhere to COVID-19 protocols. Stop by a branch near you today and let us know how we can help with your financial needs!
For a list of all Pelican locations and up-to-date lobby access information, click the button below.
---
Important Stimulus and Tax Information
Many Americans were faced with unexpected financial challenges in 2020. We wanted to provide some clarity on the third round of stimulus payments, as well as important tax information as you begin to file your 2020 taxes.
Where is my stimulus payment?

The Internal Revenue Service and U.S. Treasury Department have begun the process of delivering a third round of Economic Impact Payments to millions of Americans.
Pelican has begun receiving and posting stimulus payment files from the U.S. Treasury Department, and members can expect to see stimulus payments posted in their accounts until Wednesday, March 17, or later as they are being sent to the credit union.
Click the link below to track the status of your stimulus payment.
Do I need to do anything?
The IRS emphasizes that there is no action required by eligible individuals to receive this third payment. These payments are automatic and will post to your account once they are received.
How do I know if I'm eligible?
Click here
to visit IRS.gov and find information on who is eligible for the third round of stimulus payments.
Make the most of your stimulus payment.
Our Nationally Certified Credit Counselors have compiled a list of tips to consider as we all assess our current situation.
Click here
to learn how to make the most of your stimulus payment.
What if I came to Pelican from the First Castle merger?
Please be sure to provide your new Pelican account number when you file your 2020 taxes in 2021.
When can I start filing my taxes?
Tax season officially started on February 12, 2021. The IRS began processing and accepting individual tax returns on that date.
What is the deadline to file my taxes?
The deadline to file your 2020 tax returns is April 15, 2021.
What account information do I need to provide to receive my tax return?
If you choose to receive your payment via direct deposit, you will need to provide your account number for the account you wish to have the funds deposited in, and the financial institution's routing number.
How do I find my account number and Pelican's routing number?
Your account number and Pelican's routing number can be found at the bottom left of your Pelican checks. See the sample check below for reference.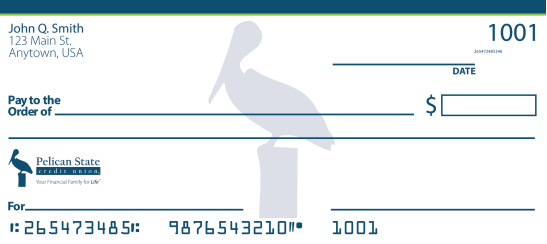 Pelican's routing number is on the left, and your account number will be to the right of the routing number.
(The account number shown on this check is invalid and only for sample purposes.)
If you are not able to locate your account number or do not have checks with Pelican, click here to contact us or ask a Pelican representative.
Where can I find information like my interest paid for the year?
Information you may need when you're filing your 2020 taxes such as total interest paid will be on your December, 2020, statement. If you do not have eStatements, click here for more information and how to enroll.
---
Check out this blog post on Pelican State of Mind to find out how you can prepare your taxes this year for FREE!
---
What We're Doing to Protect You
As our branch lobbies reopen, we will continue to follow all guidelines and protocols that ensure the health and safety of our members and team members. Here's what we're doing to protect you:
Practicing Social Distancing
Our branches continue to practice social distancing guidelines such as asking members to maintain a personal distance of at least six feet apart, plexiglass sheets in our teller lines, and requiring all members and team members to wear proper face coverings or masks.
Enhanced Sanitation Procedures
We are taking multiple steps to minimize health risks to our team, members, and communities, including enhanced cleaning and sanitation procedures in our branches by our cleaning contractors as well as each of our team members.
Ensuring Access to Funds
As always, Pelican ensures that you will have continuous access to your account and your money when you need it. We have taken extra steps to make sure cash and our ATMs are readily available for you to access. Our team has plans that allow us to continue being there for you without interruption.
---
More Ways to Access Your Account

Mobile Banking
Access your Pelican account online through [email protected] or on your mobile device through our PelicanMobile app for iOS and Android devices. Deposit checks, make transfers, pay bills, apply for loans, and more without stepping foot in a branch. You can log into both with your Pelican online banking username and password. If you don't have a login, enroll online today or give us a call at 1-800-351-4877. We'll walk you through it!
Phone or Text
Our team is ready to help you any way that they can by phone or text message! Call us at 1-800-351-4877 or text us at 1-844-916-1956 Monday - Friday, from 8:00 am - 5:00 pm.
Online Chat
Pelican's online chat is available daily from 7 am – 5 pm. Click (or tap if you're on mobile) the pink button on the side of your screen to get started. Click here for a list of everything you can do through online chat.
ATM
Pelican is part of the Dolphin ATM Network. You can access your Pelican account for FREE at any Dolphin ATM. Click here to find one near you. Plus, we have over 20 Pelican ATMs across the state for you to access your account!
---
Protecting Yourself from Scams
Unfortunately, scammers and cyber criminals see times of crisis as an opportunity to steal from you—don't fall victim to their tricks!
When in doubt, trust your gut. If something feels off or seems too good to be true, it's better to be safe than sorry. In particular, watch out for these known scams:
How to Report Scams:
For up-to-date information on recently reported scams, how to keep yourself safe in cyberspace, and more, click here.
---
Experiencing Financial Hardship?
Contact Us
If you have been negatively impacted by illness due to coronavirus or your employment and/or your wages have discontinued, please click here to request that we contact you and work together to find a solution.
Unemployment Insurance
The Louisiana Workforce Commission has released new guidelines that make unemployment insurance more flexible and accessible. You may qualify for unemployment even if you are still employed. Click here for more information on how to apply.
Business Owners
Our Business Services team is here and will continue to service all of your financial needs.
---
As your financial family for life, we're here to help. Please don't hesitate to reach out to us by any of the methods above or through our Facebook page if you need any assistance at all.
---