In addition to personalized service you'll love, you also get a ton of great perks by becoming a member—including discounts and special offers!
---
Sprint
The Sprint Credit Union Member Cash Rewards program will expire on Friday, July 31, 2020. Keep your eyes open for a new mobile offer coming soon!
For more information including loyalty reward changes, click here.
---
TruStage Insurance
As a credit union member, you have access to the TruStage® Auto & Home Insurance Program. That means an opportunity to save money on a policy issued by Liberty Mutual—a leading auto insurer—and available only to members like you. Your car is a big investment, so make sure it's protected at a good price.
This TruStage program works closely with Liberty Mutual to provide the quality protection you need—at prices you can afford.
More discounts can mean even more saving!
Even more discounts may be available, and we'll help you find them.
More than one vehicle
Anti-lock brakes
Airbags
Automatic seat belts
Anti-theft devices
Good student discount
Multiple policies (like home and car)
What services can you expect?
24-hour claims service with appraisals typically within 24 hours
Guaranteed repairs for as long as you own your vehicle
More options, including accident forgiveness, new car replacement and unlimited car rental while your car is being repaired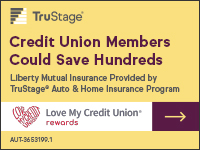 ---
More Discounts
---
*Sprint: Limited time offers. Activ. Fee: Up to $30/line. Credit approval req. Cash Reward Offers: Avail. for eligible credit union members & member employees with qualifying corp. id. (ongoing verification). $100 Cash Reward for new smartphone lines activ. Max 2. Req. activ. at point of sale. Excludes CL, MBB devices, tablets, Sprint Phone Connect, upgrs., replacements & ports made between Sprint entities or providers associated with Sprint. Limit one SWP Corp ID per Sprint acct. No add'l. discounts apply. Loyalty Reward: $100/acct./yr. when Sprint acct. remains active and in good standing each yr. Transfer Reward: Members participating in another discount program are eligible for a $100/acct./yr. deposit on their 12 mo. anniversary following transfer to Cash Reward program. Deposit: Cash Reward issued by CU Solutions Group. Sprint acct. must remain active and in good standing for 31 days to receive Cash Reward. Allow 6-8 wks. for Cash Reward to be deposited to your Credit Union acct. If the Cash Reward does not appear after 8 wks., visit lovemycreditunion.org/reward-tracker. Other Terms: Offer/coverage not avail. everywhere or for all phones/networks. May not be combinable with other offers. Offer, terms, restrictions, & options subject to change & may be modified, discontinued, or terminated at any time without notice. Restrictions apply. © 2019 Sprint. All rights reserved. Sprint & the logo are trademarks of Sprint. Other marks are the property of their respective owners.