Do you have what it takes to join us?
---
There's a reason Pelican is consistently named one of the best places to work in Baton Rouge!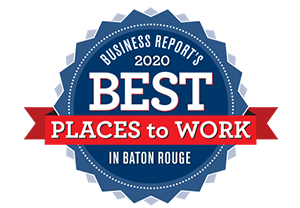 ---
These Core Values represent the culture, attitude, and behavior that contribute to the success of the credit union and set us apart from other companies.

The Pelican Team consists of humble, honest, compassionate, optimistic, and approachable individuals who believe that a positive attitude is a mindset. We lift each other up and lead with our hearts. We share a mission, and together we face adversity, overcome negativity, and keep moving forward as a positive team. We communicate, connect, commit, and encourage each other, forming relationships that make the credit union stronger.

Serving each other and our members is our cultural norm, and it is embraced as an important part of every role at Pelican. We want to serve others in ways that they become wiser, freer, more autonomous, and financially fit. Our culture is grounded in faith, and we strive to live the golden rule of 'love thy neighbor.' Through compassionate service, volunteerism, and support of underserved populations, we demonstrate our dedication to the community. We expect all members of the Pelican family to create, promote, and nurture a safe and inclusive working environment. We believe that by taking care of each other intentionally, we can better serve our members, coworkers, and neighbors.

As individuals and as a company, we believe if we're not growing our intelligence, talents, and abilities, then we are moving backwards. We have created an environment that promotes perpetual learning and innovation, and one that is intolerant of complacency. Pelican is committed to the professional development of all team members and helping them reach their full potential. Pelican invests in resources and opportunities that benefit the individual in their personal life as well as their work life at Pelican.

We are a company of owners. Pelican team members are invested in the success of the credit union, are self-driven to overcome challenges and obstacles, and hold themselves accountable for their performance. We take ownership of our tasks, projects, professional development, and performance. We are accountable to each other, creating high-performing and successful teams. 

The Pelican Team works hard to exceed expectations and achieve award-winning, above-average results. We strive to be a leader both within and outside of the credit union industry. We value diverse talents and welcome individuals with unique backgrounds, working styles, and skillsets. As individuals, we focus on quality, value, and excellence in everything we do so that we can provide our members with the very best experience. Recognition and appreciation are prevalent, and we celebrate the successes with genuine pride and support for each other.
If you embrace these Core Values and desire to contribute to our culture, apply today!

---
Check out all of our amazing benefits:
We offer the following types of insurance:
Health
Dental
Vision
Life
Disability
Pet
Retiree Insurance
Diversity, Equity, and Inclusion
At Pelican State Credit Union, we are dedicated to diversity, equity, and inclusion.
While we pride ourselves on our fair and equitable practices, we also acknowledge that we must take further action. We have a responsibility to be better and do better. Below is our commitment to you, our employees and members.
We are committed to diversity, equity, and inclusion. This commitment is a documented, long-term, strategic initiative that is supported by our CEO/President, Senior Leadership Team, and Board of Directors. While our journey will evolve, we are committed to continuously pursuing it.
We are committed to self-reflection and self-improvement. Our Senior Leadership Team continues to engage in and study materials related to diversity, equity, and inclusion. We actively strive to create a safe space for dialogue about our current position and where we want to progress as an organization. We are evaluating all procedures and strategies with a more informed perspective.
We are committed to learning more. We recognize that we are not experts in diversity and inclusion and have enlisted outside consultants and programs for additional advice. We will partner with third parties to build a strategy that enables us to continue advancing in diversity, equity, and inclusion for all members of the Pelican family. We are listening, learning, and taking action.
We are committed to respect, love, and kindness. Through communication and action, we have made it clear that we will not tolerate hate towards others based on differences. As we move forward, we will continue to build trust with employees, members, and clients to create a safe and diverse workplace. The Pelican family is expected to create, promote, and nurture an inclusive working environment.
Paid Vacation, Sick Leave, and Volunteer Time
Full-time employees receive:
13 paid holidays including Juneteenth and employee's choice of a Cultural Floating Holiday and a Floating Holiday*
12 paid vacation days per year, plus more vacation time every 5 years you're employed! Full-time employees can also cash in vacation time for 100% of its value.**
12 paid sick days per year.
Paid volunteer time off with approved non-profits and charities. (Up to 8 hours for full-time employees and up to 4 hours for part-time employees.)
That's nearly 40 days of paid time off per year for full-time employees! Part-time employees receive reduced paid time off and holidays based on their schedule.
*Reflects the 2023 calendar period and is subject to change each year.
**Limit to 3 cash-in requests per year. Some other restrictions apply.
401K with Profit-Sharing and Match
Automatic 5% contribution to your 401K after one year of employment, whether you contribute or not.
Up to 5% match of team member contributions.
That means if after one year you contribute 5% to your 401K, Pelican will contribute 10%, totaling a 15% contribution!
A Commitment to Your Well-Being
Company-sponsored fitness challenges and events
Annual on-site health screenings
Employee Assistance Program (EAP)
Policies that promote work-life balance, such as a required consecutive 4-day vacation each calendar year
We offer positions in the following areas:




Accounting
Card Services
Document Management
Facilities and Operations
Human Resources
Information Technology
Lending and Mortgage
Marketing and Business Development
Member Account Services and Collections
Purchasing
Risk Management, Compliance and Auditing
Training




All of the career paths listed above are available at our Corporate Campus in Baton Rouge, but we also have branch locations throughout the entire state! Click here to see if there's an opening at a location near you.
Tuition reimbursement
Credit union membership and free credit counseling
Unlimited free coffee, tea, and hot chocolate

Lunches with Leadership

Telemedicine with insurance provider
Employee referral incentives
Accountability Goes Deeper Than Performance
While we pride ourselves on our fair and equitable practices, we also acknowledge that we must take further action. We have a responsibility to be better and do better. Click
here
for our full statement of commitment to diversity, equity, and inclusion.
*Pelican State Credit Union is an Equal Opportunity Employer and a drug-free workplace. All locations are smoke-free facilities.