Pelican's Financial Outreach team provides financial education programs for Louisiana non-profits at no cost to the organization! We can bring Pelican to you, your team, and the individuals you serve anytime, anywhere!
We're happy to help your team and the individuals you serve with all of your financial needs!
There are so many ways we can serve your organization! Best of all, these services are
completely free!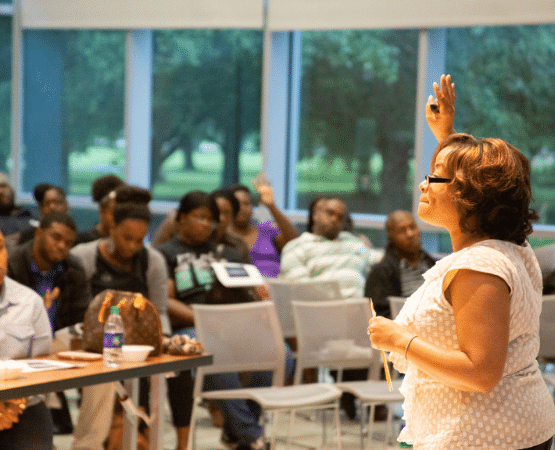 Our current partners include:

Louisiana Jump$tart
BankOn Acadiana
BankOn Baton Rouge
BankOn Northwest Louisiana
Lafayette Re-Entry Coalition
Old South Baton Rouge Coalition
Capital Area Asset Building Coalition
Rapides AKA Student Enrichment Program
Church for the Highlands
East Feliciana Drug Awareness Committee
Employ BR
Goodwill of Shreveport
Monroe Housing Authority
Louisiana Re-Entry Coalitions
Monroe Delta Sigma Theta Alumnae Chapter
Studyville
The Under Dog Project
Volunteers of Americas throughout Louisiana
And More!
Ways We Can Serve Your Organization
Financial Wellness Workshops: One of the best features about Pelican is that we provide virtual or in- person educational workshops to your organization for free! From budgeting to credit scores to homebuying, we can cover whatever everyone is most interested in learning more about.

Informational Table: Our team can set up an informational table inside your organization or host a virtual meeting for your team or the individuals you serve complete with digital resources and applications.

Health & Wellness Fairs: If your organization is hosting a benefit or health and wellness fair, we are willing to participate, hand out goodies, and make ourselves and credit union information available.

Team Trainings: We would love the chance to speak to your team in-person or virtually during employee training! Our staff will be prepared to answer any questions they may have regarding credit union membership.

Our team is here and happy to help! Fill out the form below to get started.
---
Types of Organizations We Work With
Direct Service Organizations
Re-Entry Groups
Asset Building Groups
Churches
Community Coalitions
Greek Service Organizations
Shelter Programs
Youth Groups
And More!