There's a reason Pelican was named one of the best places to work in Baton Rouge SEVEN years running! Do you have what it takes to join us?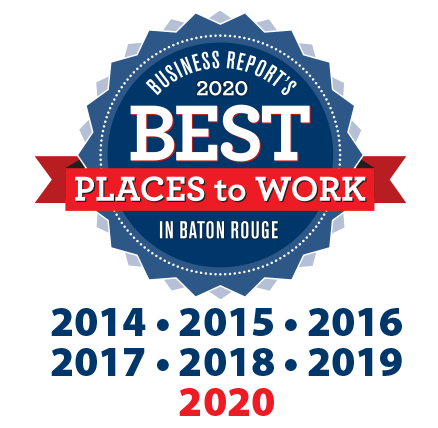 ---
When hiring, we look for:
A POSITIVE ATTITUDE
It's PeliCAN, not PeliCAN'T! A positive, can-do attitude is not optional—it's the first thing we look for among potential applicants.
HUNGER
If you want to work for Pelican, you'd better come hungry—we mean this figuratively AND literally! We love seeing initiative, drive and a desire to continuously grow and learn, but we also love to eat! Between holiday celebrations, charity fundraisers and lunching local with your fellow coworkers, you might stand to gain a few pounds!
A HEART FOR SERVICE
Helping others is our passion and at the core of everything we do. We are here to serve Pelican members and members of our community (coworkers included).
AN ABILITY TO ROLL WITH THE PUNCHES

We won't ever literally hit you (unless you count being pied in the face for charity), but we do look for flexible team members who constantly search for bigger and better ways to do things. Change is a natural part of life, and life at Pelican is no exception!
DEPENDABILITY
It might seem obvious, but being at work is important! Our culture makes coming to work and being on time fun and easy, but…we also know that life happens! For those emergencies that creep up on even the most dependable team member, Pelican offers an excellent paid sick leave and vacation policy which you're eligible to take as soon as you hit 90 days of service!
---
What we are NOT:
YOUR TYPICAL 9-5
We heavily stress work-life balance, but while you are here, you'll feel a lot more like you're with family than at your job. We also thrive on helping our fellow Pelican family reach their full potential professionally without losing focus on personal development!
GRUMPY

Bad days happen but bad member service should not! And if you are having a bad day, you can always count on Melanie to cheer you up with a healthy dose of confetti—it's literally a line item in our yearly budget!
HYPER-FOCUSED ON HIERARCHY
We live by an open-door policy. Need to talk to a member of our senior administration or human resources team? Give them a call. How about our CEO? Stop by his office—he LOVES to talk!
AVERAGE

We want to be the best, and we won't stop until we achieve our goals.
Those things don't describe me, either!
---
What we offer:
A RICH BENEFITS PACKAGE
Our benefits package includes health, dental, vision, life, and disability insurance.
PAID VACATION, SICK LEAVE, AND VOLUNTEER TIME
Full-time and part-time employees enjoy 12 paid vacation days and 12 paid days for sick leave (plus more vacation time every 5 years)! Plus, as part of our commitment to serve our branch communities, team members can also get paid to volunteer at a local charity or nonprofit!
401K WITH PROFIT-SHARING AND MATCH
After one year of employment, Pelican will automatically contribute 5% to your 401K whether you contribute or not, and match up to 5% for full-time and part-time employees.
A COMMITMENT TO YOUR WELL-BEING
We offer company-sponsored fitness challenges and events, annual on-site health screenings, an Employee Assistance Program (EAP) and work-life balance to keep you physically, mentally and emotionally well. We're also committed to diversity, equity, and inclusion. Read our full statement of commitment here.
TONS OF FUN WHILE AT WORK
Between our annual Pelican Family Reunion, Family Picnic, Halloween celebration and Christmas party, you can expect to have fun at tons of other events sprinkled throughout the year, including National Day Celebrations like National Donut Day! Check out photos from all our fun events on our Facebook page.
PERSONAL FULFILLMENT
In addition to feeling good about helping our members, you'll also have access to volunteer community service opportunities through Pelican's Beak Squad! Plus, you can earn Petey Bucks for volunteering, redeemable for custom Pelican swag!
A CHANCE TO GROW
We believe that by investing in our employees, we also invest in our members and communities. Become an expert on out-of-this-world member service with a Rick Olson seminar, get out of your comfort zone with an 8-week Dale Carnegie class, or learn to lend with the member in mind at University of Lending. Employees also enjoy tons of other position-specific training opportunities and free, online courses, and many of our departments even participate in professional development book clubs!
DIVERSE CAREER PATHS
Whether it's at one of our branches across the state or at our Corporate Campus in Baton Rouge, we have a wide variety of positions to fit your career path!
Accounting
Card Services
Document Management
Facilities and Operations
Human Resources
Information Technology
Lending and Mortgage
Marketing and Business Development
Member Account Services and Collections
Risk Management, Compliance and Auditing
Training
We also offer:
• Tuition reimbursement
• A chance to work with the best of the best
• Credit union membership and free credit counseling
• Free coffee, tea, filtered water, and hot chocolate
• Frequent visits from local food trucks
• Discounts with TruStage Insurance, Blue Cross/Blue Shield, and more
• Lunches with Leadership
• Referrals for obtaining Pelican Partners
• Telemedicine with insurance provider
I want these awesome benefits!
*Pelican State Credit Union is an Equal Opportunity Employer and a drug-free workplace. All locations are smoke-free facilities.